West Virginia AG Leads Coalition Calling on SCOTUS to Correct Lower Court's Anti-Religious Ruling | New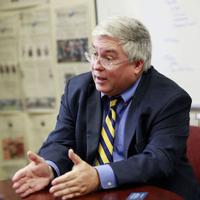 CHARLESTON— West Virginia Attorney General Patrick Morrisey leads a 24-state coalition in filing an amicus brief, asking the U.S. Supreme Court to reverse an 'anti-religion' ruling by a lower court that could leave many religious practitioners unprotected from violence and threats.
The case involves threats against Falun Gong, a religious group founded in China in 1992. Their practice involves a series of meditation exercises and written texts that "preach the virtues of truthfulness, benevolence and tolerance ".
It was banned in China in 1999. Many practitioners fled to the United States, but continued to be persecuted by Chinese Communist sympathizers.
"This is America, and everyone should be able to practice their religious beliefs without fear of persecution," Morrisey said. "The United States Court of Appeals for the Second Circuit's interpretation of an important law ending violence against places of worship is flawed and should be corrected."
The Clinic Entrances Freedom of Access Act 1994 (FACEA) prohibits a person from intentionally injuring, intimidating or interfering with another person who practices their religion "in a religious place of worship".
Falun Gong practitioners distributed flyers and posted posters protesting the Chinese Communist Party's treatment of Falun Gong on the sidewalks of Flushing, Queens, New York.
Practitioners claim that China's Global Anti-Cult Alliance harassed them near these tables – the claimed "place of worship" – in violation of FACEA.
The Second Circuit has denied Falun Gong practitioners the protection of the law by interpreting it as only reaching places primarily devoted to religious worship – as determined by select readers or "collectives" within a religion given.
"This decision restricted a law intended to ban the worst acts of violence in many hallowed halls across America," Morrisey said. "It also requires victims of religious violence to prove that their activity was sufficiently religious and prevents courts from deciding what constitutes genuine worship warranting protection."
Morrisey was joined on the case by his counterparts in Alabama, Arizona, Arkansas, Florida, Indiana, Kansas, Kentucky, Louisiana, Mississippi, Missouri, Montana, Nebraska, New Hampshire, North Dakota, Ohio, Oklahoma, South Carolina, South Dakota, Tennessee, Texas, Utah and Virginia.
Read the amicus brief at: bit.ly/3QirNKC.