Visit of the Cambodian Prime Minister to Myanmar: Weakening of the role of ASEAN?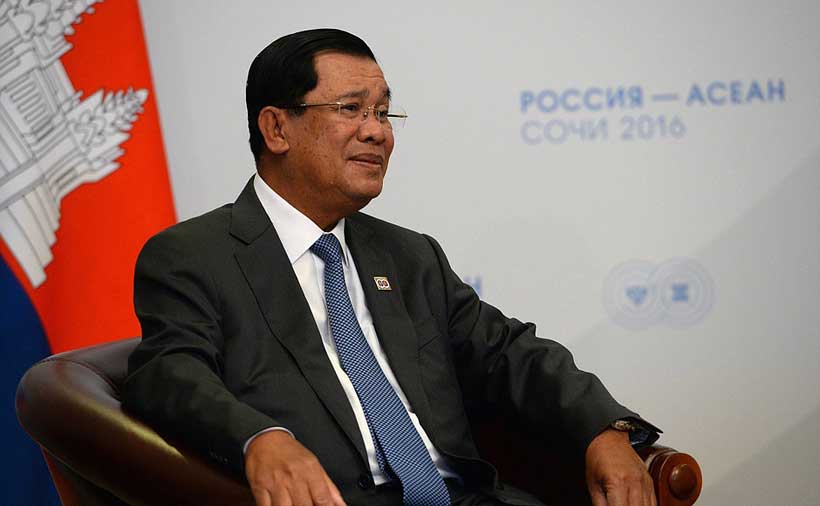 Cambodian Prime Minister Hun Sen recently visited Myanmar for two days despite a wave of condemnations that his visit undermines ASEAN and legitimizes Myanmar's murderous regime. Hun Sen is currently the chairman of the Association of Southeast Asian Nations (ASEAN) in 2022 and is expected to lead ASEAN in diplomatic activity on how to navigate Myanmar's political situation. As expected, Hun Sen was welcomed by Myanmar officials, including Foreign Minister Wunna Maung Lwin, and given a guard of honor. Hun Sen is accompanying donations of medical equipment to fight Covid-19, including three million face masks, 200,000 N95 masks, 100,000 goggles, 30,000 personal protective equipment (PPE) suits, 30,000 face shields, 3,000 plastic boots, 50 ventilators suitable for an intensive care unit setting, 50 patient monitors and 50 oxygen concentrators. He was the first foreign leader to visit the country since Myanmar's military overthrew the democratically elected party and imprisoned its leaders, including Aung San Suu Kyi. Since February 1, at least 1,435 people have been killed by the Tatmadaw in a ruthless crackdown on democratic protests. The conflict has also intensified in the country's border areas, creating a humanitarian disaster where tens of thousands of people fled for their lives. Prompted by Myanmar's exclusion from the bloc's summit in 2021, the prime minister has repeatedly signaled his intention to bring the country back into the ASEAN fold, arguing that the economic union is "incomplete".
Why did the Cambodian Prime Minister visit Myanmar, an almost pariah nation in the world? Traditionally, Cambodia has been a tried and tested ally of Myanmar. This country has remained solidly behind Myanmar in times of crisis and challenges. In particular, Hun Sen's current leadership is close to Myanmar's military junta. Cambodia has a different view of Myanmar and is deeply pro-Junta as Hun Sen feels that ASEAN did not perform very well in 2021 on the Myanmar issue. As ASEAN President, Hun Sen is determined to find a way to end the violence and maintain the 'ceasefire' in Myanmar while continuing the bloc's five-point consensus and bringing humanitarian aid. In his own words, we cannot sit idly by while Myanmar collapses and we must find a way to resolve the impasse between the opposing parties there and take advantage of every opportunity to continue negotiations.
Although the Cambodian leader appears to be focused on the political crisis in Myanmar, he does not care about democracy, human rights and the brutality of military rule. He does not care about the Rohingya or minority groups, which serves the interests of the Myanmar regime and its allies. Cambodia launched a diplomatic blitz to rehabilitate the junta first within ASEAN and then globally. Before taking over the annual rotating ASEAN presidency, Hun Sen said he wanted the Myanmar junta to be represented at the bloc's meeting. Responding to questions about whether Cambodia can solve Myanmar's junta problem, Hun Sen mentioned that any resolution should come from Myanmar itself, saying the regional bloc was only part of the help. to the member country to find a solution. "It's not based on whether Cambodia can solve it or not, but Cambodia will try to compromise Myanmar's situation to bring it back to a better situation.
Hun Sen tries to use his personal influence as one of the oldest leaders in the region who has been in power for more than 36 years and even supported Vietnam's invasion of his country in 1978. His own leadership in Cambodia is also deeply criticized, so its diplomatic role can also help it legitimize its power in one of the small historic nations on the planet, Cambodia. Hun Sen often refers to ASEAN's long-standing convention not to interfere in each other's internal affairs as an excuse not to create pressure on the junta government. It clearly promotes the idea that under the ASEAN charter no one has the right to expel another member.
Support for the Hun Sen Initiative
Hun Sen's visit enjoys the support of some ASEAN and non-ASEAN members. Cambodia enjoys strong support from two strong ASEAN regional partners and ASEAN Plus Three members, China and Japan. A statement from Japan's MOFA said Japan welcomes Cambodia's active engagement as ASEAN chair on the situation in Myanmar, and the two ministers shared the view of coordinating closely . Another close ally of Myanmar, China, is also strongly supportive of Hun Sen and Cambodia, as well as Myanmar. Chinese Foreign Ministry official Wang Wenbin said China appreciates Myanmar's willingness to create favorable conditions for the ASEAN special envoy to fulfill his duty and [he] works towards effective alignment between Myanmar's five-point roadmap and the ASEAN five-point consensus. In his words, "China will fully support Cambodia, the rotating ASEAN presidency, by playing an active role and doing [an] important contribution to the proper management of differences between the parties of Myanmar". ASEAN members such as Thailand and Vietnam strongly support Hun Sen's visit. Cambodian Foreign Minister Prak Sokhonn said the ASEAN member Thai foreign minister had sent a "congratulatory message" saying that "he strongly supports the results of the joint Cambodia- Myanmar".
Against the visit
Rights groups are calling the visit a charade. They openly claim that by not insisting that he meet with all parties to the conflict, including imprisoned political leaders like Aung San Suu Kyi, Prime Minister Hun Sen has demonstrated a clear authoritarian orientation that all problems can be settled in closed-door talks between dictators. They argue that such a benevolent stance by Hun Sen threatens to undermine ASEAN's very fragile decision that Myanmar's political authorities cannot participate in future ASEAN events unless they abide by the consensus in 5 points agreed by General Min Aung Hlaing in April 2021. Activists also argue that with the false confidence generated by this misguided visit, the serious concern is that the Tatmadaw will see this as a green light to double down on its abuse of power tactics. rights aimed at suppressing the aspirations of the Burmese people. The worrying fact is that ASEAN has made efforts to stabilize the political conflict in Myanmar since the 2021 coup, but many see Hun Sen's visit as undermining that progress. Naturally, anti-coup activists and leading members of Myanmar's shadow government, the National Unity Government, also condemned the visit on social media. The ASEAN members most vocal against the visit are Indonesia and Malaysia who led the process in 2021 to exclude junta leader General Min Aung Hlaing from the ASEAN process for his flagrant violation of the 5-point consensus to which he was also a party.
Who benefited from the Visit?
Undoubtedly, it was Myanmar's military junta that exclusively benefited from this visit orchestrated by pro-junta members inside and outside ASEAN. Myanmar and Cambodia are particularly pleased with the results of the visit. First, the Myanmar military has already gained a huge diplomatic advantage from Hun Sen's visit as he became the first foreign leader to visit Myanmar and meet the regime's leader, Min Aung Hlaing, since that the military overthrew the country's elected government in February 2021. Meanwhile, the two leaders discussed bilateral relations during a 140-minute meeting in the capital of Naypyidaw and they agreed that the special envoy of ASEAN could be involved in the peace process in Myanmar. Myanmar believes that Cambodia will govern with fairness during its ASEAN chairmanship this year. For Myanmar, there were 'good results' from the Cambodian leader's visit which strengthened military leadership as they argue that international pressure on Myanmar has not eased, but Myanmar will not bow to it not.
Despite the satisfaction of Myanmar and Cambodia, Malaysian Foreign Minister Saifuddin Abdullah criticized Cambodian Prime Minister Hun Sen for taking unilateral action by meeting Myanmar's junta leader. The Foreign Secretary further added: "We would expect him to consult with at least – if not all – a few of his leading brothers on what he should say." He reiterated that ASEAN's position would not change and that until there was clear progress on the five-point consensus, Myanmar's representation at the ASEAN summit and related summits in the end of the year should remain apolitical. Indonesia is another powerful ASEAN member which also criticized the visit and called it an exercise in futility.
Another immediate outcome of the visit is the postponement of the first ASEAN meeting known as the ASEAN Foreign Ministers Retreat (AMM Retreat) originally scheduled for January 18-19, 2022 in Siem Province. Reap under the 2022 Cambodian Presidency. Although COVID 19 was touted as the reason for the decision, it was the division among bloc members over Prime Minister Hun Sen's visit to Myanmar that played a vital role in this new development. Discord within ASEAN over Hun Sen's trip to Naypyidaw and a possible invitation by the Myanmar junta's foreign minister to attend the ASEAN diplomats' retreat could explain why some ASEAN members have chose not to attend the meeting. Specifically, the problem is that members' intense disagreement over the ASEAN President's invitation to Myanmar's military-appointed foreign minister, Wunna Maung Lwin, has created a stalemate. It can be mentioned that Brunei, Indonesia, Malaysia, the Philippines and Singapore had supported the exclusion of the coup leader from the regional bloc summit in 2021 when Brunei was the bloc's president. Analysts fear the postponement could effectively delay the formal endorsement of Foreign Minister Prak Sokhonn as the new ASEAN special envoy for Myanmar.
By visiting Myanmar and meeting Min Aung Hlaing, Hun Sen legitimized him and at the same time weakened the role of ASEAN by playing a constructive role in the Myanmar crisis. Myanmar's military chief had promised, among other things, to end the violence and give an ASEAN special envoy access to all sides in Myanmar's political crisis, but he did none of that. . Hun Sen reversed the position of former President Brunei, which created positive pressure on the Myanmar regime. Now the visit has called into question the credibility and limit of ASEAN to continue its meaningful and effective diplomatic role in mitigating the crisis in Myanmar, which is negatively impacting the future of the democratic movement and the possible repatriation of Rohingyas.
Related