The rise and fall of Aamir Liaquat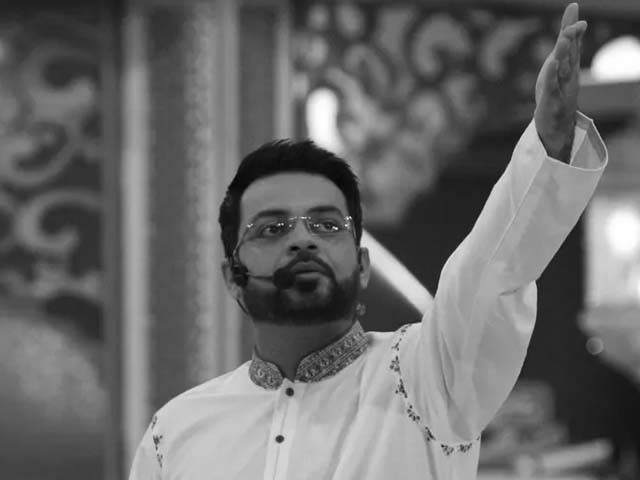 I won't call him a freak but rather a Machiavellian operator who exploited problematic attitudes in society.
Aamir Liaquat, politician and famous television (TV) personality, left us, and the news of his untimely death at the age of 50 is making waves not only in Pakistan but also internationally. Aamir was, after all, a larger than life figure due to his controversies and excesses both as a television host and as a politician. He was admired by some and hated by others, often in equal parts, and was the epitome of the saying: love him or hate him, you can't ignore him.
Even though you hated him, you may still feel a bit of sadness about the nature of his passing. As I write these sentences, condolences continue to pour in from showbiz celebrities and political figures, including the former Prime Minister Imran Khan. Death, in addition to being an unshakable reality, is also a great leveler. Moreover, Aamir was clearly a broken man in his final days, as evidenced by his latest videos. He had said he wanted to leave Pakistan after his controversial third marriage to Dania Shah broke down and the backlash he was receiving after she released secretly recorded videos of him. He was also facing a lot of online abuse from Pakistan Tehreek-e-Insaf (PTI) supporters for clashing with Imran, which undoubtedly worsened his mental toll.
I may have hated him a lot during his lifetime, and I have very good reason to, but that last video he recorded made me soften a bit towards him as he revealed his side sensible and, to be honest, much less sinister. A very public fall from the heights of popularity into infamy, and the resulting transformation from arrogant to vulnerable, often elicits some sympathy. Now the suddenness of his death has brought a tragic angle to his life, and personally I feel sad for him. On social networks too, I see a lot of statuses urging people to forgive one's mistakes and remember the good sides of his personality.
That said, while I am saddened by his tragic and untimely demise, at the same time, I must be honest when evaluating his legacy, as his life influenced not only the general public, but many television hosts as well. and budding politicians.
I wish I could say that his legacy is good, if not mixed. Unfortunately, his legacy is largely troubling and deeply controversial. Yes, he was a successful artist and for that he should get accolades. However, one cannot ignore the fact that his style was largely built on rudeness, exaggeration, vulgarity, controversy and sometimes even rudeness towards his own guests. He knew that controversy and vulgarity, even when they evoke disgust and condemnation, result in higher marks.
While his role as an artist, despite the controversies, can still be glossed over, one cannot ignore how he attempted to control the discourse on religion in Pakistan and how he dangerously weaponized it. This is perhaps the most troubling part of his legacy, made more powerful by the fact that he was also seen as a religious scholar.
Yes, he has highlighted the plight of Muslims in Myanmar and Indian-occupied Kashmir a lot in his programs and on social media. However, its negatives in this regard far outweigh the positives. He openly questioned the religious beliefs of certain sects of Islam, which not only helped fuel religious intolerance in society, but sometimes led to disturbing and fatal consequences. In September 2008, he openly encouraged hate speech against the Ahmadi community on his TV show, which was followed by the killings of prominent Ahmadis within two days of the broadcast. However, no concrete action was taken against him. A few years later, his promotion of hate speech against the same community again led to another murder, and again he suffered no serious consequences. Besides spreading hatred against Ahmadis, he has also targeted other Pakistani religious minorities on social media, such as mocking Hindu deities.
Aamir also negatively influenced public discourse on the existing blasphemy law by unequivocally calling it Islamic and describing its opponents as anti-religious. In 2017, he launched blasphemy allegations on some missing bloggers and demanded death for them on his TV show, for which he was temporarily banned. This act of launching baseless allegations was extremely dangerous as it contributed to the current trend to weaponize existing blasphemy laws to settle other scores. His ban was later lifted, but he was again banned from appearing on television in December 2017. Indeed, he continued to engage in hate speech in which, in addition to propagating religious intolerance, he also accused various people of treason. It was clear that Aamir was willing to test the limits he could go to in inciting religious hatred, and in doing so he was normalizing these tactics. He was of course helped by the fact that the bans imposed on him were lifted each time. In many ways, he pioneered the current trend in broadcast journalism where TV presenters can just say anything without adequately backing it up with evidence.
Additionally, Aamir engaged in overt sexism and misogynistic behavior, helping to normalize such thinking in society at large. Her tactics ranged from making vulgar and inappropriate remarks in front of her guests to openly lambasting certain women (often liberals, feminists and prominent politicians) on social media as well as on her television programs. His misogynistic approach also extended to his own marriages, as he used his media power to slander his former wives. His glorification of his third marriage to Dania (clearly more than 30 years younger than him and, according to some interviews, actually underage) was also extremely reprehensible. In some ways he tried to present the marriage of a very young and beautiful girl as proof of his success and entitlement.
Although Aamir's overall legacy is troubling, I am aware that in many ways he embodied the contradictions and flaws of the society to which he belonged. In some ways he contributed to those societal shortcomings, but at the same time he was also a product of that same system. His character resonated with a wide audience as he said what he wanted to hear. I won't call him a freak but rather a Machiavellian operator who was willing to commercially exploit existing and deeply rooted problematic attitudes in society.
Rest in peace, Aamir Liaquat.