Successful efforts, surveillance, collapse of religion and assault on women's rights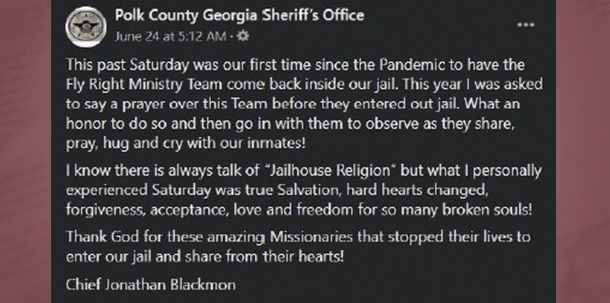 We are constantly striving to keep the United States of America on the constitutional right path and therefore we feel content when our efforts bear fruit.
The Peach State has been particularly successful for us this week.
A school district rectified a number of constitutional violations there, such as the illegal distribution of proselytizing material and the posting of religious messages, thanks to our perseverance. (It took a number of letters!)
And we made sure that a Georgian MP has stopped behaving illegally. We were more than happy to put his sheriff's office on the right legal track.
We caused a sensation in the media
Our efforts in our home state to secure a link between a school district and a church board group created a media uproar.
"The Freedom From Religion Foundation opposes a partnership between the Waupun Area School District and Church Health Services that provides health services to low-income students," a story in the the local newspaper reads. A piece in another media starts: "The Madison-based Freedom From Religion Foundation issued a statement Thursday opposing" a constitutionally problematic partnership between a Wisconsin school district and a religious entity. ""
We love to shake things up.
An unexpected roadblock
Unfortunately, the constitutional path can sometimes come up against unexpected obstacles. An appeals court has issued a stay order in a case the Freedom From Religion Foundation recently won against a praying Texas judge. "We are discouraged that people who have cases before Judge Wayne Mack will have to continue to participate in unconstitutional prayers while this case unfolds," declares the co-president of the FFRF Annie Laurie Gaylor. The suspension decision is not a final decision on the case. Mack and FFRF will be filing briefs with the 5th Circuit on the appeal later this year – and with your goodwill and support, we'll do our best to win.
We keep an eye on the laws
As part of our efforts, we keep an eye on legislative actions at all levels. We applauded Colorado lawmakers for allowing child sexual abuse survivors to sue. "Churches and other institutions that cover up abuses should not be able to escape accusations just by running out of time. " Comments from FFRF Co-President Dan Barker.
We also asked members in Virginia to help thwart a proposal by the Chesapeake City Council to put "In God We Trust" on all of its police vehicles. Such steps aim to further the big lie that the United States was "founded on God" or on Christianity, we emphasized. And the exercise will be a waste of taxpayer money.
Religion collapses
Such abominable movements are occurring despite the rapidly changing religious demographics of the country. Annie Laurie and Dan interviewed Robert P. Jones, CEO of the Public Religion Research Institute, the our radio show this week about the organization's unprecedented new '2020 Census of Religion in America', county-by-county, which shows that as religion declines, the percentage of non-religious holds steady.
The decline of religion in the United States is so rapid that veteran free thinker and writer Jim Haught proclaims: "Christianity is collapsing.
"Sociologists are amazed at the rapid disintegration of Christianity in America," he writes. "It's an amazing cultural transformation, confirmed by several surveys and studies.
The aggression of religion against women's rights
One area of ​​particular concern to us is religion's assault on women's rights, especially reproductive rights. That's why much of our work revolves around the issue, as we can see this week. In our last episode of Facebook Live function "Ask an atheist" of the FFRF, Annie Laurie and FFRF staff lawyer Liz Cavell were joined by Professor of Law Geoffrey Stone and FFRF Anne Nicol Gaylor Reproductive Rights Intern Barbara Alvarez to discuss the threatened status of abortion rights.
Barbara has done an outstanding job monitoring the state of reproductive rights nationally. As she puts it: "2021 is the worst year for abortion rights. And Texas illustrates how badly things have turned out.
"Texas lawmakers have demonstrated just how vitriolic the assault on women's health care has become," she warns in a second blog post on the issue this week. "A shocking and cruel new law delegates ordinary citizens to enforce anti-abortion laws. "
Religion is anti-science
Religion is also helping to prolong the pandemic. Ironically, on the occasion of the 96th anniversary of the Litters (and the fourth anniversary of the FFRF unveiling a statue of Clarence Darrow at the trial site), Tennessee's top vaccine official was fired for doing her job to promote Covid vaccinations -19 "As Clarence Darrow knew, we must first defeat another deadly virus: religiously inspired anti-science propaganda," Annie Laurie notices.
It is only with your help that we can counter religious imposition in these areas – and in all other areas of our lives.