Shedding Our Eurocentric Bias: The Gains of a Broad History of Global Christianity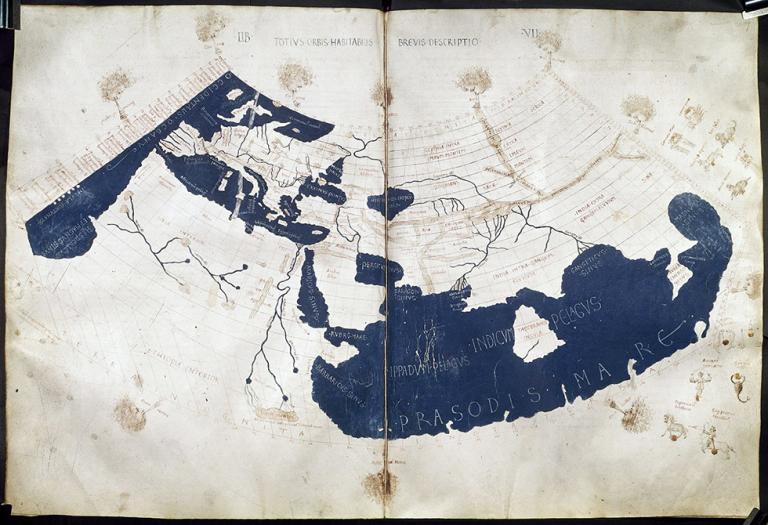 Today we welcome Dr. Thomas Carlson to the anxious bench. Dr. Carlson is an associate professor of history at Oklahoma State University. His areas of research include: the medieval Middle East; Islamic-Christian relations; Byzantine, Islamic and Syriac Studies. He is the author of Christianity in 15th Century Iraq (Cambridge, 2018). You can follow Dr. Carlson on @MedievalMidEast.
Christianity is a world religion. The canonical Acts of the Apostles recounts a trajectory from Jerusalem to the imperial capital at Rome, while alluding to other trajectories in the narrative of the peoples present at Pentecost (Acts 2:9-11) and the subsequent conversion of the Ethiopian eunuch (Acts 8:26-40). Indeed, Christianity spread both east and west, possibly reaching the Parthian capital of Seleucia-Ctesiphon in the early 2nd century. [1]. Christianity reached the Kushan Empire in what we now call Afghanistan early in the third century, as the works of Bardaisan show. In the fourth century, while Patrick was preaching in Ireland, not only the Roman Empire, but the kingdoms of Armenia and Ethiopia adopted Christianity as their state religion. Christianity reached China in the 630s, with a generation of Augustine the Minor evangelizing the Angles and Saxons. The early Islamic conquests, which dismantled the Persian Empire and much of the Roman Empire, failed to defeat the mighty Christian kingdoms of Nubia (modern Sudan) and Ethiopia, and Christianity continued to spread. spread in Central Asia among Turkic and Mongol nomads at the same time. time it spread north to the Scandinavians and Russians.
This expanded Christianity is "known", at least among specialists in various sub-disciplines of Eastern Christian studies (Armenologists, Coptologists, Syriacs, etc.), but despite some attempts to integrate it into the discipline of the history of Christianity (e.g., Philip Jenkins), the general public and the teaching of the history of Christianity in English-speaking universities and seminaries largely continues to follow the exclusive contours of "Western civilization", as if it were a true historical phenomenon rather than a white supremacist fiction. Books by historians of American Christianity or Western Europe are labeled "History of Christianity" more simple; books by historians of Asian or African Christianity after Late Antiquity are labeled by subdiscipline and are not generally reviewed in Church history journals or read by historians of Western Christianity, or by an audience wider western (although sometimes in diaspora communities).
The scholarly discipline of the history of Christianity continues to perpetuate the imbalance in global coverage of the Christian religion: the ProQuest dissertation database records almost three times as many dissertations on the Franciscan movement alone (1,146) than on the almost two thousand years old. Syriac tradition which has spread from Jerusalem to India and China (423), a proportion maintained if we consider only the last five years (187 against 60). To be clear, the problem here is not the sheer number: there is still much to learn about the Franciscans, but how much more about an entire branch of Christianity that has spread across a continent?
Some will inevitably wonder if these imbalances are a problem: is the history of Christianity Eurocentric simply because European varieties of faith are historically more important? The short answer is no. The "rediscovery" of Aristotle, Galenic medicine and other Greek "classics" in medieval Western Europe was mediated by Arabic-speaking Muslims and Jews, who received Aristotle from Arabic-speaking Christian translators (notably Ḥunayn ibn Isḥāq ) working in Baghdad. Yet few non-specialists have heard his name today, although he is known (in the Latinized form Johannitius) to medieval Latin authors themselves. There was a convenient oversight.
It was not European but Asian and African Christians who informed most Muslims' thinking about Christianity and the precedents of relations between the world's two greatest religions, until some of these Muslims fell under the European colonialism in the recent past. The prominence of Christianity among Genghis Khan's family and allies shaped the religion's fortunes in Asia, in what still remains the largest contiguous land empire in human history. "Prester John" may have been a European fantasy, but it was a fantasy based on certain Middle Eastern facts, which the Europeans themselves misunderstood; now facts and fantasies have faded from public consciousness.
When Western Christian missionaries confronted Islam, whether in medieval or modern times, they often turned to local Christians who had long lived with Muslims for advice and translation services (even s 'they regularly slandered these guides and translators as "bad Christians" or simply failed to mention them altogether).[2] Today, the study of "Christian-Muslim relations" is a burgeoning field that pivots dizzily from early Baghdad to Bede with little attention to these later Eastern Christian mediations of Western European contacts with Muslims.[3] Western teleology of the academic history of Christianity has recently been complemented by a new focus on "global Christianity", a beneficial development that is, however, limited by the typical presumption that non-Western Christianity is derived from colonial encounters, rather than to largely precede them. parts of Asia and Africa. In short, our structures for scholarly history fail to represent the real past.
Getting rid of the Eurocentric bias in our understanding of Christian history would bring several gains. First, we could broaden our dialogue with those who rightly criticize imperial European Christianity for its legitimization of oppression and who therefore reject the "white man's religion". If we want to first learn from the deep story of the melanin-rich embodiment of our global faith, then we can draw on the theological insights of our brothers and sisters in Christ, who have been the recipients rather than the authors. of oppression, to present a more balanced and (we hope) appealing picture to critics of Christianity.
Second, to point out that Christianity has never been exclusively European and Euro-American would also call into question how white supremacy continues to shape English-speaking theology in all majority white denominations, where non-white authors are often only admitted. only "on probation"; this long overdue intellectual move invites white American Christians to repent of the racial injustice of our predecessors.
In positive terms, a larger history of global Christianity invites us out of bigotry into Catholicity, which is, after all, a hallmark of the Church in the Nicene Creed, and can prompt a more balanced reflection on our heritage of Christian doctrine. For example, when I was researching late medieval Iraqi Christianity[4], Syriac Christians' reflections on the suffering and protection of Christ, on particular biblical passages, and on the cosmic role of worship challenged my white, middle-class American background. All human theology is historically conditioned, and conversely, all history of Christianity is theologically conditioned. A more accurate view of the past of world Christianity can correct our theology in the present.
Third, Western false teleology continues to be the refuge of apologists for empire, who still see conquest as a means rather than an obstacle to Christianization; the world history of Christianity can correct the arrogant triumphalism that germinated after the "rise of the West". If, as our Lord Jesus Christ said, "It is easier for a camel to go through the eye of a needle than for a rich man to be saved," America's world power is a grave danger to American Christian discipleship.
But most important to me, correcting the bias in our historical understanding undermines our complacency or adoration and turns our gaze to the one who is the only Savior of the world, Jesus Christ, the only true teleology of Christian history. It is not necessary (nor dangerous to) neglect the study of Western Christianity, but it must be placed in its proper relationship to a fuller understanding of God's people throughout the world, or else we distort His plan of salvation. whose love for humanity is greater than we can imagine.
Footnotes :
[1] Jeanne-Nicole Mellon Saint-Laurent, Missionary stories and the formation of the Syriac Churches (Oakland: University of California Press, 2015), 57 and 152n11.
[2] A clear example is the slander of William of Rubrouck against all Asiatic Christians throughout his widely translated travelogue, despite depending on them for communication.
[3] For a brief survey of recent studies that a major survey of Christian-Muslim relations has excluded, see Thomas A. Carlson, critic of Hugh Goddard, A History of Christian-Muslim Relations2n/a ed. (Edinburgh: University of Edinburgh, 2020), in Medieval Dating 27 (2022): 109–12.
[4] Thomas A. Carlson, Christianity in 15th Century Iraq (New York: Cambridge University Press, 2018), especially Chapter 6.