Religious scholars seriously interested in atheism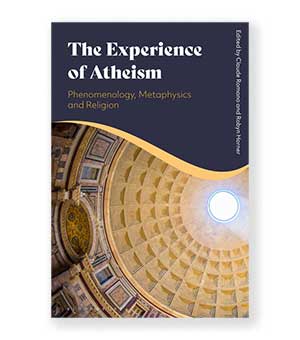 Atheists have always turned their gaze to religion, but traditionally scholars of religion have had little interest in atheism.
That has changed with a new book that aims to move beyond this "us and them" conflict between religion and atheism to examine the complexities of how different types of atheists experience belief or lack thereof.
The Experience of Atheism: Phenomenology, Metaphysics and Religion is a volume of essays edited by the famous French philosopher, Associate Professor Claude Romano, Professor at the Australian Catholic University, and Associate Professor Robyn Horner, Researcher in
religion and theology at the Australian Catholic University.
The book is radical because it demands that theist and atheist take themselves seriously and consider concepts such as atheistic faith, "the death of God" and anarchic faith.
The experience of atheism is grounded in phenomenology, a philosophical approach that focuses on how things appear in experience. Associate professor Romano is a world leader in this field of study, having won the Grand Prix de l'Académie française in 2020 for all of his philosophical works.
The book argues that the fact that religious faith has become not only optional but also, in many contexts, strangely alienated from society is changing the way people experience both religion and the lack of religion.
"Atheism developed in response to religion at a time when religious faith was taken for granted. But in our contemporary secular society, being religious is the most unusual position. It may be more viable not to believe.
Associate Professor Horner said being religious or being an atheist is often about how people view the world rather than an intellectual process that lends itself to persuasion through argument.
"Focusing on experience rather than belief means that we are not tied to the question of whose story of existence is undeniably true. We recognize that there are different ways of experiencing the world. Some people have a world experience that includes God, some do not, and there are many places in between. "
Associate Professor Horner said the book revealed the commonalities between the experience of belief and the experience of unbelief. "There is literal atheism just as there are fundamentalists in religion. These people experience certainty. They have a very clear disbelief just like some religious people have an absolute and literal belief.
"But there are other people who, for example, do not feel the presence of God. It is not an intellectual thing. It's not that they believe or don't believe. God is just not obvious to them.
Others experience religion in terms of the impossibility of actually knowing or experiencing something which, by definition, is not knowable in the usual sense. Some of these people define themselves as religious and are concerned with open faith. Others define themselves as atheists.
"For these people, their relationship to religion is about recognizing that transcendence is in many ways unthinkable and feeling like we can never really know," Associate Professor Horner said.
/ Public distribution. This material is from the original organization and may be ad hoc in nature, edited for clarity, style and length. View full
here
.