Police ticket man who spat racist rants outside Queens College |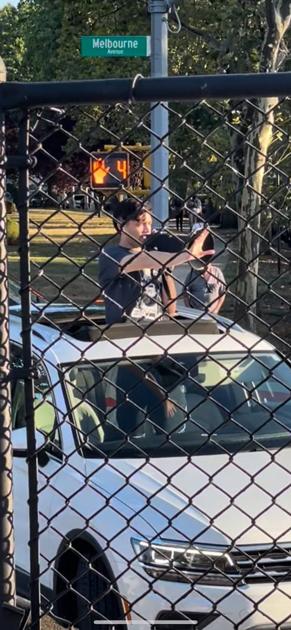 A man spewing racist and anti-religion epithets outside the entrance to Queens College this week was silenced by police who confiscated his megaphone and fined him on Thursday night.
Throughout the week, the man, who college officials say is not part of the Queens College community, shouted racist, anti-Semitic, anti-Christian and anti-Islamic statements and conspiracy theories, often vulgar, from a white Volkswagen near the entrance. on Melbourne Ave.
A video of the incident was shared by the nonprofit watchdog organization StopAntisemitism.org. The person who recorded the video was on campus and the screaming man is on the other side of the fence.
The person filming says: 'This guy has been sitting outside the Queens College campus for almost all day now and nothing is being done about it…he can cause a row and he can cause intimidation and fear.'
The school's public safety office attempted to engage the individual but, as he was technically off campus, officers contacted the NYPD, according to an email from Queens College's diversity director and dean. of diversity Jerima DeWese to the campus community, which a spokesperson shared with the Chronicle.
The email said officials would continue to work with the NYPD to keep campus safe.
"When hate speech occurs, it has effects and consequences on those exposed to it," DeWese wrote in the email.
"We recognize the need to address these effects on an ongoing basis. As such, the Office of Compliance and Diversity and the Center for Ethnic, Racial and Religious Understanding of Quebec (CERRU) will initiate a conversation on campus and other community forums regarding the presence and impact of the discourse hate when it happens in our community.
A previous email from DeWese on Wednesday said: "While we respect the First Amendment rights of everyone, we strongly condemn hate speech and wish to make it clear that Queens College is in no way associated with such harmful rhetoric. ."
The police department could not immediately say what the charge against the man is as its press office needs more information to identify the incident.
Queens Borough President Donovan Richards tweeted of the event: "Students, faculty and the community at Queens College should not be subjected to these anti-Semitic and racist rants. Glad to hear law enforcement fix the issue by fining the individual and confiscating his megaphone. This behavior is despicable and will not be tolerated in Queens.