Oli offers to couple his nationalist rhetoric with the Hindu constituency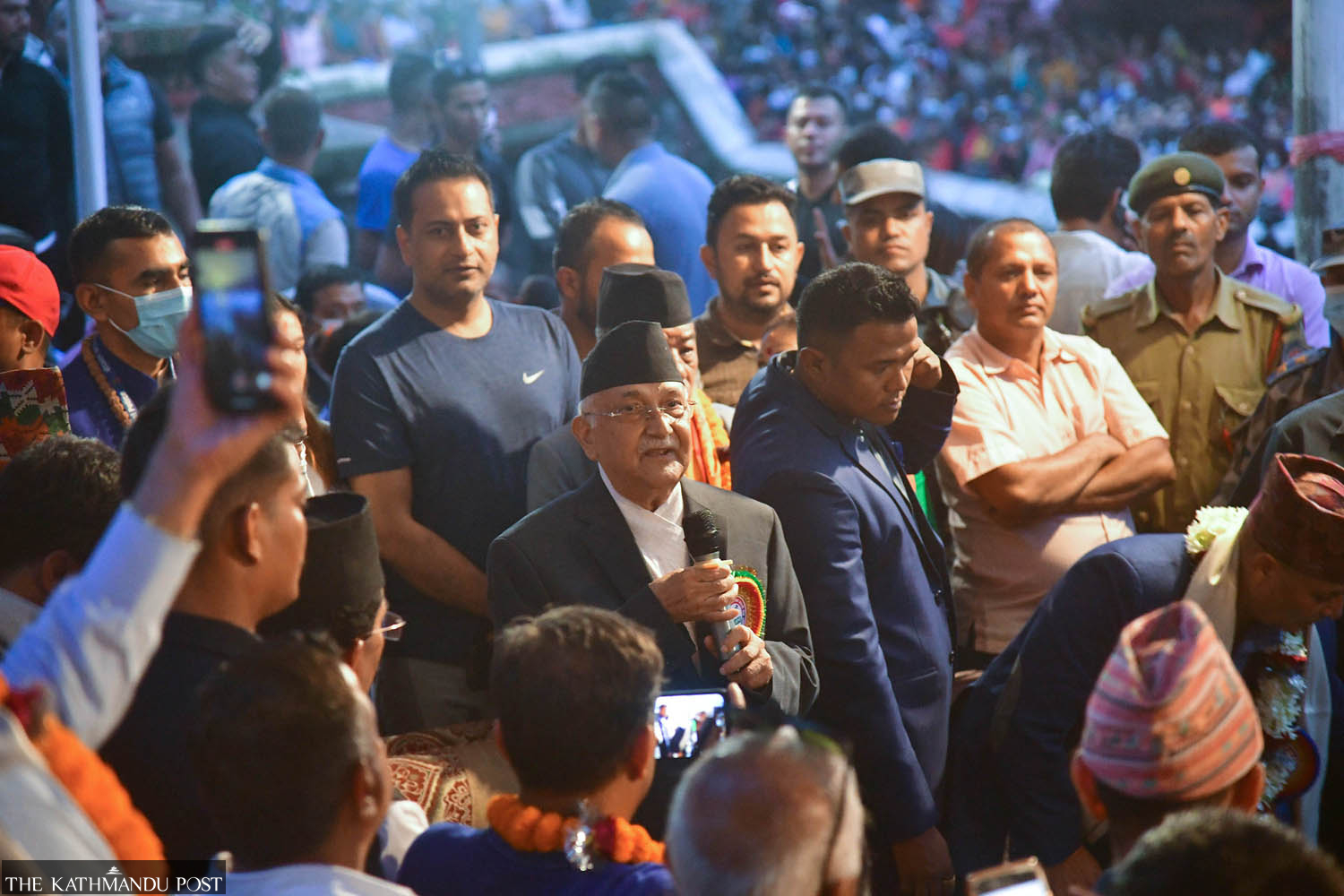 CPN-UML Chairman and former Prime Minister KP Sharma Oli visited the Pashupatinath Temple on Monday evening and observed the "aarati". Mondays in the Nepalese month of Shrawan are considered auspicious by Hindus and worshipers flock to Shiva temples.
The communist leader sat among the crowd as he observed aarati, a ritual of offering incense and light to the gods.
Oli joined the communist movement in the 1970s as a "secular" politician. Because he was a 'Communist', he was not considered a religious leader, let alone a Hindu leader.
Observers and pundits say Oli is already in campaign mode for the upcoming elections, and his visit to Pashupati on Monday night has underlying meanings. He is definitely trying to cash in on Hindu votes, they say.
Even in January 2021, Oli's visit to Pashupati drew strong reactions.
Before visiting the Pashupatinath Temple on Monday, Oli said his government was first toppled after signing the Transit and Transport Agreement with China in 2016, then he was removed from office in 2021 after his government unveiled a new political map of Nepal incorporating Kalapani, Lipulekh and Limpiyadhura.
"I knew I would have to quit when we released the new map incorporating our territory. There was no doubt that Kalapani, Lipulekh and Limpiyadhura belonged to us," Oli said as he published a book written by former water resources secretary Dwarika Nath Dhungel. "We also knew that after the map was released there would be an outcry and my position would be at stake. As a result, I was removed from my post as Prime Minister.
The map was unanimously approved by Parliament through a constitutional amendment. This has led to frosty relations with India, but the issue remains unresolved.
According to observers, Oli, as in 2017, is likely to raise the nationalist issue and combine it with Hindutva and the shenanigans of the current government of Sher Bahadur Deuba for its electoral platform.
"There is no doubt that Oli is trying to use Hindu sentiment," former foreign minister Ramesh Nath Pandey said. "He wants to get on the religious and nationalist board."
Oli won the 2017 election by stepping up nationalist rhetoric, chastising India for its 2015 border blockade after the constitution was enacted.
The 2015 constitution guaranteed Nepal a secular federal republic. But there are still forces that demand the return of Nepal to a Hindu kingdom. Lately, some sections have been vocal against the decision to declare Nepal a secular federal republic. Although Oli's party has not officially discussed overthrowing the system, one of his close allies once in July 2021 registered a proposal to overhaul federalism.
And Oli is well aware of a chorus in the streets also by certain sections on the Hindu state.
During his second term as prime minister, the communist leader said Lord Ram was born in Nepal instead of Ayodhya in India. He even formed a team to build a Ram temple in Thori, Chitwan in January 2021.
Some members of his party say there is not much to read about the president's visits to temples.
"If the Hindutva case were to be the case, there are parties that have openly presented it," a senior UML official said. "Did they receive a huge number of votes… in 2017 and in the recent local elections?
According to the leaders, Oli is the president of the party, but he is also an independent thinker, so his religious inclination does not necessarily mean that the UML will abandon the secular agenda.
"If the president's religious visits attract the Hindu voting base, so be it," said the leader, who wished to remain anonymous. "We are well aware that leaving the secular agenda will be counterproductive for the party."
Oli's renewed push to cash in on Hindutva also appears to have been driven by some recent developments since his ousting in July last year.
In April this year, Prime Minister Deuba visited India during his official visit abroad after taking office. Apart from official engagements, Deuba took the time to visit the headquarters of the ruling Bharatiya Janata party. Arzu Rana Deuba, the Prime Minister's wife, performed an elaborate puja at the Kashi Vishwanath temple in Varanasi. She had last August tied a "rakhi" on the wrist of the foreign BJP head of department Vijaya Chauthaiwale, an episode that became famous as "rakhi diplomacy". In Nepal and India, the sisters tie the rakhi [a protective wristband] on the hands of their brothers during the Raksha Bandhan festival, which falls in August.
Earlier this month, CPN (Maoist Center) Chairman Pushpa Kamal Dahal, a key coalition partner in the Deuba government, visited India at the invitation of BJP Chairman JP Nadda. The BJP and the Maoist Centre, two parties that look like chalk and cheese, have agreed to establish "party to party" ties.
Observers say Oli might have thought that Deuba and Dahal were also trying to take advantage of Hindu sentiments, which the UML leader has long tried to play with.
CP Mainali, who has known Oli for decades, said Oli's visit to Pashupatinath temple was his campaign tactic and he wanted to woo the Hindu electorate.
"Oli is already in the electoral campaign and he will play all the cards he can," said Mainali, secretary general of the CPN (ML). "We are a diverse country…we are a secular country. We must respect all religions. Oli's decision is simply aimed at the elections. He knows how to play at the gallery.
UML senior leader Subas Chandra Nembang, however, dismissed Oli's visit to Pashupati as having anything to do with the elections.
"In a secular country, you can participate in any religious function. And such religious functions should be encouraged. Since Nepal has a Hindu majority, they naturally organize many functions compared to others," Nembang told the Post. The month of Shrawan is special for Hindus, so he visited the Pashupatinath temple on this occasion. You don't have to read a lot.
Observers say politicians and parties have every right to push to win elections, but they must stay away from certain issues.
"There is no doubt that leaders should prioritize elections, but they should refrain from making religion an electoral platform," said Pandey, the former foreign minister. "Winning an election is not enough. See what is happening in Sri Lanka where the government was democratically elected. Politicians should make the country and the needs of the people their electoral agenda, not religious feelings. »