Naomi Wolf laments 'war on religion' amid COVID restrictions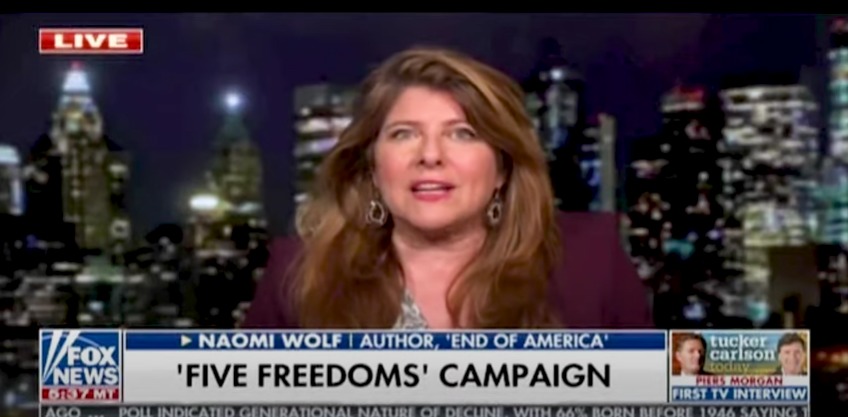 A prominent liberal has become a vocal critic of restrictions on religious faith implemented during the COVID-19 pandemic and, in response, has launched a campaign committed to preserving freedom of worship and other freedoms that governments have imposed limits.
Appearing on "Fox News Primetime" Monday, Naomi Wolf, a former adviser to Democratic politicians and outspoken feminist, reacted to "the anti-religion nanny state Easter war."
Host Mark Steyn prefaced the interview with Wolf by highlighting examples of law enforcement officials in Western democracies, including Canada and the UK, disrupting church services that took place in the days leading up to Easter over concerns the gatherings violated COVID-19 restrictions.
"There is a war against humanity. There is a war against religion. There is a war against human gatherings, "she said. "Big tech wants to bring everyone inside and dissolve the bonds between people. "
"The real pandemic, which is now endemic, it is turning into something that we live with every year, has provided cover for very dark forces to terrorize human gatherings and to do what you are right to point out is illegal," Wolf added. She further criticized Western governments for assaulting "the way human beings bring together strength and community from one another so that there is … some kind of new overlords."
Wolf suggested that the attacks on the right to worship that emerged during the coronavirus pandemic are a signal of something darker: the clergy … and targeting the idea of ​​faith because that's where people derive their strength and their community.
Steyn asked Wolf to describe his "organization that is really committed to turning things around" by demanding "more permanent emergencies". Wolf spoke of her platform, Daily Clout, which she founded to allow everyone "to pass a law and run for office, not just elites or insiders."
"In the face of this crisis, a group of citizens launched a 'Five Freedoms' campaign," said Wolf. "As you mentioned, number one is the absence of mask warrants, no emergency law. Our Constitution prohibits emergency powers indefinitely.
"The freedom to assemble… worship, to engage in commerce forever, it is illegal to restrict worship or commerce or assembly in our democracy. Number four is not a vaccine passport, some super scary tech that I mentioned. And number five is the immediate opening of schools, "she added. Wolf mentioned that the Five Freedoms campaign is "getting a ton of traction" and that leaders in Idaho, Missouri and South Dakota have signed some aspects of the pledge.
Additionally, Wolf noted that she was asked to update a book she wrote in 2008 titled, The end of America who described 10 steps towards fascism. "Emergency law is the tenth step and in Massachusetts I live under emergency law. Next door, New York lives under emergency law; there is an emergency law in California. It is the end of democracy and they are not giving up these powers, "she warned.
Before introducing Wolf, Steyn discussed a "tragic element of the diminished state of Christian churches a year later [the lockdowns]. "According to Steyn," If ever there was a huge opportunity for religious ministry, a world in which everything else is dead, movies, shows, sports, concerts, restaurants, all the noisy distractions of secular and consumerist life, [now] that is surely it.
"Yet for the most part, starting with the social justice pontiff at the Vatican blaming COVID on climate change, churches blew it up," he lamented. Sadly of all, a year without a church saw church membership in the United States for the first time fall below 50% of Americans, which is a shame because when churches are silent, the only religion that remains is the state. "
In the most prominent example of Western government officials attempting to interrupt a church service over Easter weekend, a Canadian pastor forcibly told a policeman and public health worker who entered his church without mandate to leave the premises. Artur Pawlowski, the Polish-born pastor of Street Church in Calgary, Alberta, Canada, appeared on "Fox News Primetime" on Tuesday after video of his conversation with law enforcement went viral. Steyn played a clip of the meeting at the start of the segment with Wolf.