McGinley is proud of the 'liar' label | Jackson Star and Herald – Ripley and Ravenswood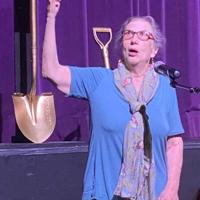 RIPLEY, W.Va. (WV News) — If someone is called a liar, a response from West Virginia would typically fall under the words "the fights." When Suzy McGinley is called a liar, she says, "Why thank you, I try."
McGinley has participated in the Liars Contest at the Vandalia Gathering for the past few years. This celebration of West Virginia culture includes Appalachian music, crafts, food, dance and storytelling.
"My first try was in 2015, I think," she said. "It was a learning experience and I didn't expect to win anything. And I didn't, but I had fun. I was hooked.
She remembers this first story.
"I was driving to Charleston for my job at the West Virginia Library Commission," she said. "I started wondering if there could be a secret room in the capital. And that led me to ask if all the former governors were gathered there. What would they say?
And so, the number one whopper was created.
As McGinley looked forward to entering the pageant the following year, she broke her wrist and had to sit out.
She took the opportunity to give herself time to work on tip number two, which she says was inspired by a "real" incident.
"Well, the inspiration was real," she said with a smile. "I was coming out of The Downtowner and there were a bunch of motorcycles there. These made my mind race wildly.
And so, story number two was created.
"Oh, that was a crazy story," she said. "And it was another learning experience because I got kicked off the stage for being too long. Imagine that, me not knowing when to stop talking.
Taking her experience and going where she felt most inspired, McGinley began working on the story for 2019.
"I create a lot of stories as I prepare to take a nap," she said with a smile. "I started thinking about living in Point Pleasant, which I did for several years when I was director of the library. Well, of course, that got me thinking about the Mothman.
McGinley's vivid imagination didn't take her down the path of scary monsters. Instead, it brought her to a "what if" moment.
"What if the Mothman decides to take a trip to Myrtle Beach but his not-so-smart watch sends him north instead when he encounters the Jersey Devil," she said. "Oh, the possibilities it gave me."
And so, fib number three was created. And it turned out to be a winner.
"I got third place with this one," she said proudly. "There are three levels and mine was Big Liar but as I like to call it, 'Full-figured Liar.' Second place is Bigger Liar and first place is Biggest Liar.
Then COVID hit and Vandalia was one of the events affected. But the Jackson County storyteller saw it as an opportunity to work on lie number four.
"I've been simmering on this one for two and a half years," McGinley said.
This time the inspiration came from the church.
"Reverend Ford Price of Epworth United Methodist was telling us a story about atheists on a Sunday," she said. "It was really funny, and I hate to say it, but my mind wandered because it inspired me to make up a story in my head."
And so, "Otis Earl and the Bear," Big Lie Number Four was created.
McGinley said she can't wait to take the Cultural Center stage to tell her quirky story of Otis Earl and his colorful religious experience.
"Well, actually, I was terrified before, but once I got up there, it became natural," she said.
Recently recovered from hip replacement surgery, the storyteller said she had the perfect opening line.
"I started with 'I'm just here shooting hip replacement,'" she said with a big laugh. "It received a great response from the public."
Although she loved her story, McGinley said she was disappointed with her presentation this year.
"Once again I was ripped off stage because it was too long," she said. "I didn't even hit the bear."
When asked how long it took him to finish his story, McGinley replied, "Maybe a minute, but I was already two minutes over when they stopped me."
There is a strict five-minute maximum rule.
"Did I time myself when I was training," she said. "Why no, I didn't. It's one of my weaknesses. One of my others is that I keep adding details and asides that are so funny but time consuming.
She was, however, very encouraged at the end of her performance.
"I had people come up to me asking how it ended," the Jackson County fibber said. "One of the most significant comments came from the sound engineer for the event. He said he wished the length rule wouldn't eliminate me because he preferred my story. I had a chance to win the big gold shovel this year.
McGinley credits much of his onstage ease to being part of the county theater group, the Jackson County Players. She has been a star actress in almost every production. Additionally, she shared her lies at open-mic events at the Alpine Theater.
"I love being on stage," she said. "And I love listening to stories and telling my own. My mum and dad were great storytellers themselves. Dad and grandma used to talk about growing up in a coal camp in New River called Summerly. Mama was a Coast and all I will say is that it's an interesting side of the family.
As the only child in a family that included her three brothers, McGinley said she could fend for herself.
"But my brothers have their talents too," she said. "My late brother Pat was a good 'liar'. You never knew what to believe when he told a story. Brothers Bill and John love to hear a story and can tell good ones too.
Jackson County's first liar isn't done yet. She is already working on a story for next year's contest.
"I'll time myself this time," she said.
Looking back on the 2022 Vandalia Gathering experience, McGinley said she remembers one moment in particular.
"We have three judges," she said. "Karen Vuranch, who is a master storyteller, was one, along with the head of the West Virginia Storytelling Guild. The third judge was Vandalia's all-time liar, Bil Lepp. When I heard him laugh during my lie, I felt like I had arrived.
Above all, McGinley said what brings her back every year is the camaraderie.
"I love being around other people who love a good West Virginia story," she said. "The audience is there to have a good time and the support and acceptance makes it so comfortable. I tell anyone who likes to tell a story to give it a try.
The next Vandalia Gathering will take place on Memorial Day weekend in 2023.