Icelandic Jews beat Church taxes and ban on circumcision. Now they even have a rabbi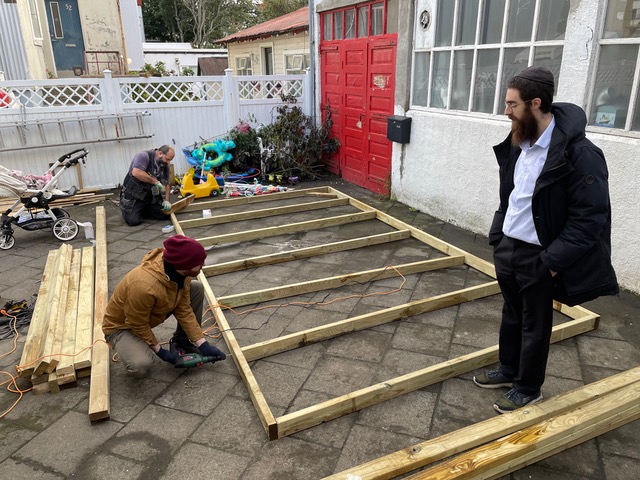 Three years ago, Iceland's small Jewish community fought against legislation that would ban child circumcision. It was an uphill battle because Judaism was not on the island nation's list of officially recognized religions and Jews still paid religious taxes to the State Lutheran Church.
Today, Judaism thrives in the land of fire and ice, and the community celebrated Sukkot with its first convert and an enterprising rabbi who led it through three years of dramatic change.
Reykjavik was the only European capital without a resident rabbi until the fall of 2018, when Rabbi Avi Feldman, now 30; his wife, Mushky; and their daughters, now four girls under the age of 6, have moved in.
Three years later, they plan to invite members of Iceland's Jewish community, which Feldman estimates to number 500 to 600, to share meals with them in a sukkah. This ceremonial stand is part of Sukkot (sometimes known as the Feast of Tabernacles), a biblical harvest festival where Jews eat outside in temporary dwellings to remember the care God gives them after their exodus from Egypt.
Jews around the world are building similar informal outdoor structures for the eight-day Jewish holiday, which began on Monday. But this sukkah is located in a predominantly Lutheran country where Jews have rarely been recognized.
Last Sunday, in a backyard of Feldman's spacious house overlooking Faxaflói Bay to the north, three men were trying to figure out how to build a sukkah from a two-by-four pile.
"You might ask yourself, 'Aren't you doing that kind of strength for Iceland? But you haven't seen the wind in Iceland," said Mike Levin, a Chicago native who lives in Iceland. Iceland since 1986 and wore covered overalls. with various carpentry tools.
Finnur Thorlacius, an Icelandic man hoping to be the fledgling community's first convert to Judaism, helped hold the nails in place. Many of the city's Jews are expatriates, he said. Others landed there after marrying Icelanders. Still others are attached to various foreign embassies. But no one had really put this disparate group together until the Feldmans took over.
Feldman said his time in Iceland, which was approaching his fourth birthday, had been overwhelmingly positive.
"Personally, we have only had great experiences," he said. "I'm a very public person. I always try to make myself available for news channels here. People know who I am. I dress in a kippah. [skullcap] and tzitzit [knotted fringes attached to clothing for Jewish men]. People recognize me as a rabbi. I feel very accepted here. "
This island nation, whose national church is the Evangelical Lutheran Church of Iceland, is not known for welcoming Jews. In fact, Kling & Bang, an art gallery located a mile away, is running an exhibition until October 3 showing how Icelanders deported or turned back Jews during WWII.
Icelanders allow their taxes to go to around 50 recognized religious groups that are subsidized, but it wasn't until early this year that Judaism was considered one of them. In April, thanks to the efforts of Feldman, the Embassy of Israel and others, the Icelandic government declared Judaism the official religion, allowing its Jews for the first time to send their share of church tax, known under the name of sóknargjald, at the Jewish Cultural Center of Iceland, which is its official name. Feldman admitted to inserting Culture in the title to reach out to non-Jewish Icelanders and introduce them to aspects of his religion.
He worked hard to persuade the locals that unlike other rabbis who may have passed over the years, he is here to stay. He is part of Chabad-Lubavitch, an Orthodox movement known for its openness to Jews and non-Jews and its custom of sending pioneer couples around the world to strengthen or establish a Jewish presence.
Feldman's 2021-2022 Jewish calendar features scenes from across the island and local advertisements. He posts inspiring videos on the Icelandic Jewish Center Facebook page, which differs slightly from the official name filed with the state. Sometimes he teases readers: "Moses thought it was important to have a Torah in Icelandic," he said on July 13.
He also maintains a Twitter account ("Sharing the warmth of Judaism in the land of fire and ice," he proclaims); and attracts traffic to the group's JewishIceland.com page.
He needs to be careful – after all, it was in early 2018 that the Icelandic Progressive Party introduced a bill banning male circumcision on the grounds that the child should be able to give informed consent. (Circumcisions are performed on the eighth day of a Jewish newborn baby.)
Although Icelanders were divided over the bill, the country's tiny Muslim and Jewish communities – for whom circumcision is a religious rite – were outraged, and outside observers asked Iceland if it wanted the distinction. doubtful of being the only European country to ban the act. The bill was shelved in May. The Feldmans moved to Iceland five months later.
The community performs circumcisions by flying in a mohel, often a doctor or rabbi trained in the ritual.
Feldman said his wife was one of the inspiration for the move, in that she knew Jewish visitors to Iceland who couldn't find a Sabbath dinner to attend, let alone a place to observe. Jewish holidays. On a recent Friday evening, the Feldmans invited several guests to their table, set for 12 people. Napkins were arranged decoratively in glasses, and a loaf of braided challah bread, specially made for the Sabbath, was covered in yellow, brown, and orange cloth.
A bouquet of fresh lilies and roses has been placed near the dining room table, and the rabbi's extensive bookcase has been set up at one end of the living room. A painting of the late Rabbi Menachem Mendel Schneerson, the most famous leader of the Chabad movement, was prominently placed on the wall.
Just before 8 p.m., Mushky Feldman lit Sabbath candles placed on a large silver tray and invited all the women present to do so as well. After prayers over challah and a bottle of kosher wine – with each guest encouraged to take at least one sip – a dinner of beets, salmon and potatoes was served.
Interest is slowly growing and about 40 people came to pray last week on Yom Kippur, the Jewish Day of Atonement. Feldman has gotten positive and generous media coverage here, and local supermarkets stock kosher items. It doesn't hurt that the salmon and cod, which are plentiful in Iceland, are kosher.
"There is actually a lot of kosher food," the rabbi said. "Because Iceland imports a lot of food, a lot of the dry produce it gets is kosher."
Feldman, a tall, erudite-looking man with a dark brown beard and glasses, is from Brooklyn's Crown Heights neighborhood. There he met Mushky Namdar, who grew up in Sweden as the daughter of a Chabad rabbi. The couple wanted to start a movement the same way their father had, and Iceland seemed a natural fit.
"We did some research before coming here," he said. "We went to Sweden, and the cultures and styles of the two countries overlap. I was amazed by the beauty of this country, from the Northern Lights to the volcano to the hot springs."
Speaking of the volcano, Feldman posted a video on Twitter of him blessing (in Hebrew) the six-month-old Icelandic volcano Geldingadalir, which is a short drive from downtown Reykjavik.
As a huge mound of lava smoked behind him and a helicopter circled above him, he said, "It makes us stop and think about this incredible creation, this beautiful world we live in, and we think of the artist who created everything. "
One difference their presence made, he said, was the setting up of an annual Holocaust memorial ceremony held in 2020 at the Polish Embassy and via Zoom in the year. last. "In fact, other institutions are contacting us and asking us to be part of them," the rabbi said. "I think a Holocaust memorial deserves great attention."
As for current attitudes, "I cannot say that there is no anti-Semitism here, "he added." There are always haters. "
If so, they stay well hidden. Iceland's Jews hope to one day have their own synagogue, a Jewish community center and a mikvah, a ceremonial pool in which women can bathe after their menstrual cycle has ended. Mushky Feldman said they were trying to raise around $ 50,000 to build one.
Previously, "people would say, 'But there is no rabbi here,'" she said. "Now it's an amazing, thriving and growing Jewish community."