Gender and religion on politicians' minds as Australians face cost of living pressures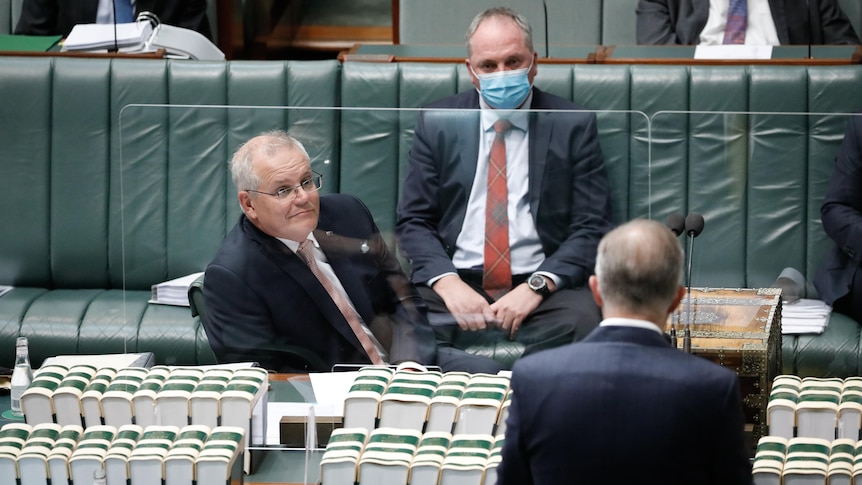 Most Australians would happily live their lives ignoring the political games that are so often played in federal parliament.
So you could forgive them for feeling uneasy at the news of the late-night political antics surrounding some of society's biggest taboo subjects – sex and religion – not to mention the discrimination against vulnerable young people.
You can also imagine that for the bulk of Australians when they woke up this morning they were more concerned about other issues like the price of fuel, whether the supermarket had fully stocked shelves, whether their children will contract the COVID or if they ever will be. able to afford a house.
Elections, as Clinton's presidential campaign celebrated, are all about "the economy, stupid."
So how is it then that the House of Representatives sat for an extraordinary amount of time debating changes to religious freedoms, on the eve of an election, as if that were the biggest threat to Australians?
At its core, it's about politics and a response to the pursuit of a problem.
Taken on their own corner
The Federal Coalition wants to corner Labour, hoping it can campaign against the opposition as being anti-religious in the suburban electorates that will determine the election – a move that worked successfully in 2019.
But for a political wedge to work, you need everyone on your side to sing from the same anthem sheet.
The Liberal Party likes to describe itself as a broad church. Although, when five of your people cross the floor to join the opposition and the opposition, you start to feel that on this issue, these liberals come from another faith.
"I couldn't live with myself if I didn't seek to address these issues," Liberal MP Trent Zimmerman said, his voice cracking as he spoke about the need to protect young gay people from discrimination.
Zimmerman, an openly gay man and a leading voice for same-sex marriage in 2017, described this week as one of the toughest of his time in parliament.
Just a day earlier, New South Wales Premier Dominic Perrottet, himself a religious man, said he did not believe legislation was necessary and feared it would create "more problems than she tries to solve".
After the same-sex marriage laws were enacted, the Coalition ordered a review, carried out by former Liberal cabinet minister Philip Ruddock, to investigate religious freedoms in Australia.
He found little evidence that religious freedoms were being eroded, but argued for expanding federal laws to protect people from discrimination based on their faith.
Scott Morrison does not hide that he is a man of religion. He was often photographed in church, sat in a faction dubbed 'the prayer group' and most of all applauded 'I've always believed in miracles' when he won a shock election victory in 2019.
He has promised, since before the last election, that he would enshrine greater religious freedoms, while protecting young LGBT people from discrimination.
It now seems almost certain that the changes won't happen until the nation goes to the polls again.
A bigger defection than expected
The Prime Minister has entered the first sitting week of the Federal Parliament by removing barnacles from the Good Ship Morrison as he returns his party to the political centre.
There was money for the ABC, an apology to Brittany Higgins, a pledge to open the international border, tax deductions for rapid antigen tests and troops sent to help COVID-ravaged parts of the care sector. to the elderly.
His push for greater religious freedom has an expiration date of this week, with Coalition sources saying they won't seek to push changes through the Senate and into law during this government term. .
Why? Because the Coalition has suffered more defection from its ranks than it had anticipated and it only has two days left with the Senate sitting between now and the election.
Government spinners suggest they will "win" by passing religious freedom laws through the House of Representatives – although that is akin to claiming to have won the lottery by simply buying a ticket.
He left Morrison with shards of his own political corner gone horribly wrong.
If the debate continues beyond this week, it risks crowding out the Coalition's efforts to focus solely on its budget, which it will release at the end of March.
Earlier this week, Finance Minister Simon Birmingham hinted at the direction he should take the debate if the Coalition is to win.
After being confronted with questions about religious discrimination, he lamented that he was not confronted with a single question about the economy or his portfolio.
He knows full well that for most Australians their vote will depend on which side of politics comes up with plans to lower the cost of living, to ensure they have a job and can feed their families.
It's the economy, silly.
Loading