Coronavirus vaccine refusals in the US have no legal leg to stand on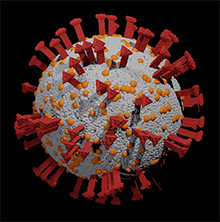 Coronavirus vaccine refusniks are walking a thin sheet of ice in America, constitutionally speaking. And this for 116 years.
An influential decision of the United States Supreme Court of 1905 – Jacobson v Massachusetts – ruled that government and private businesses and institutions are constitutionally entitled to require the vaccination of employees and other persons having access to their services.
Massachusetts law requiring vaccination, heart of Jacobson v Massachusetts, was codified at the turn of the 20e century to fight against epidemics of the dreaded smallpox virus.
The court ruled that the state of Massachusetts "acted constitutionally within its police powers to pass a law to protect the health and safety of the public," said the Free Speech Center at Middle Tennessee State University on its website.
In an opinion, Justice John Marshall Harlan I said:
"It is well established principles that a state's police power should be required to embrace, at a minimum, reasonable regulations established directly by law that will protect public health and safety.
Unfortunately, the decision of 1905 is unsurprisingly being misused today by the Christian right, which deceptively – and successfully – argued in 2020 that, ostensibly to avoid distracting doctors from the fight against Covid- 19 (as if conservative Christians have shown any interest in the virus except for pooping it), they should be banned from performing legal abortions during the pandemic.
In the interest of public health, you see.
The result was a US appeals court ruling, ignoring the previous Roe v Wade legalizing abortion in 1973, ruled that Texas could prevent doctors from performing abortions due to the Covid-19 pandemic. Lawyers used Jacobson v Massachusetts' "public health" directive as the basis for their decision to end abortion in the last days.
However, it is important to note overall that the judges in the 1905 decision "warned against" arbitrary "or" oppressive "regulations and expressly linked compulsory vaccination to ending the spread of smallpox. ", CNN declared in 2020.
This new decision is nothing if it is not "arbitrary" and "oppressive", because it aims in a fallacious way to "help" women while doing next to nothing to eradicate the Covid.
I also think of the 1905 ruling this week after reading an article by a progressive Christian blogger in which he reasonably protested against the immorality of so-called Christians fighting vaccinations and mask warrants on rights grounds. religious.
"Apparently, there is no legal requirement for these entities which impose vaccination also include an exception clause for religion. Moreover, how can such a thing happen if one of the main goals of most religions, including Christianity, is for their practitioners to do good to their fellow human beings. It is doing the exact opposite, hurting other human beings not to be vaccinated against COVID and thus endangering people's lives with this most horrible and deadly coronavirus that killed in 18 months over four million people worldwide, of which over 600,000 are Americans. Therefore, I believe that entities that adopt such vaccination mandates should not include an exemption for religion. "
Hear hear.
The eponymous blogger Kermit Zarley referred to a 2020 circuit court ruling upholding Indiana University's Covid-19 vaccine mandate for students, faculty and staff.
"There cannot be a constitutional problem with SARS-CoV-2 vaccinations," wrote the panel of three of the Republicans-appointed judges, which incorporated the legal rationale for Jacobson v Massachusetts.
At the time, 500 U.S. colleges and universities made Covid vaccination mandatory, according to a report by The hill.
For a more in-depth dive into the intricacies of legal advice regarding vaccine mandates, check out this informative article on Checking the facts in line.
But, in summary, I think Zarley has the right idea – but not just for Christians. Anyone who cares about their neighbor should be optimistic about vaccines, which save lives and reverse unnecessary suffering. Opposing them is not only anti-Christian but anti-American.
Saying that you are afraid of getting a vaccine or wearing a mask that virtually all of the best public health professionals in the world insist they are safe and extremely effective, but not perfect (like nothing is), it's like refusing to go out because you might be struck by lightning.
It is good to know that there are laws that rationally limit freedoms to prevent people from doing what is unequivocally the wrong thing and endangering the rest of us.
As they say, the freedom of your fist stops on my face.
---

Buy either book on Amazon, here (paperback or ebook editions)